Bukovac's ever-present desire to apply his acquired knowledge and experience for the good of his homeland was also manifested in his move from Paris, where he spent 16 years, to Zagreb in 1893. Writing to his wife Jelica in Cavtat that same year, he leaves the impression that he has finally settled down: 'As it were, it seems to me that my future is in Zagreb, and not far from Dubrovnik, as well as Cavtat, and our language, our people, our glory.'
Although Bukovac in those six years spent in Zagreb influenced the truly tectonic changes on the art scene, political and social circumstances determined his angry departure from Zagreb in the middle of preparations for the first joint exhibition Croatian Salon. Interestingly Croatian Salon was set up in a new exhibition space, in the Art Pavilion, which was erected thanks to Bukovac's advocacy activities. As he himself said, there were intrigues, public denunciations and everything, but not artistic reasons for his departure.
He leaves the newly built magnificent house and studio, and retreats to Cavtat.
Bukovac will live and work in Cavtat for the next four years. He will write later: Bitter is the truth, but it should be emphasized. It has broken many of our people – and this same trouble still breaks, and that is what the Croats themselves called: – 'Croatian malice'.
Probably this experience will be crucial in Vlaho Bukovac's decision to paint the Carnival in Epidaur as a pledge of love and peace to his fellow citizens. Ivanka Bukovac conveyed Bukovac's words in the manuscript Memories of My Father, which is kept in Bukovac House:
I will quote here a passage from the diary, which my father wrote to his young wife, my mother:
When it was decided to create one society in Cavtat merged from the two that existed before, I contributed a lot to make it so, and I succeeded. In 1900, we rejoiced that the Epidaurus Society had been created, where Croats and Serbs lived in harmony and love. I made a draft for the same society for the new building and supervised it to succeed as well as possible, so we welcomed a theatre in Cavtat, even though it was small… In order to oblige the love among the members of that society, I decided to decorate a large hall with a larger painting, in which I will present the time in which the members get closer, in 'Carnival' / 'Carnival Time'. As I thought, so I did. I worked hard, but again for the love of Cavtat I wanted to sacrifice that too… This picture represents how the Epidaurus society is having fun. Everyone here is masqueraded, the tambourine choir plays one piece for dancing, and Ljubo Medini, who was our leader – is in charge. The choir consists of 16 people, including me.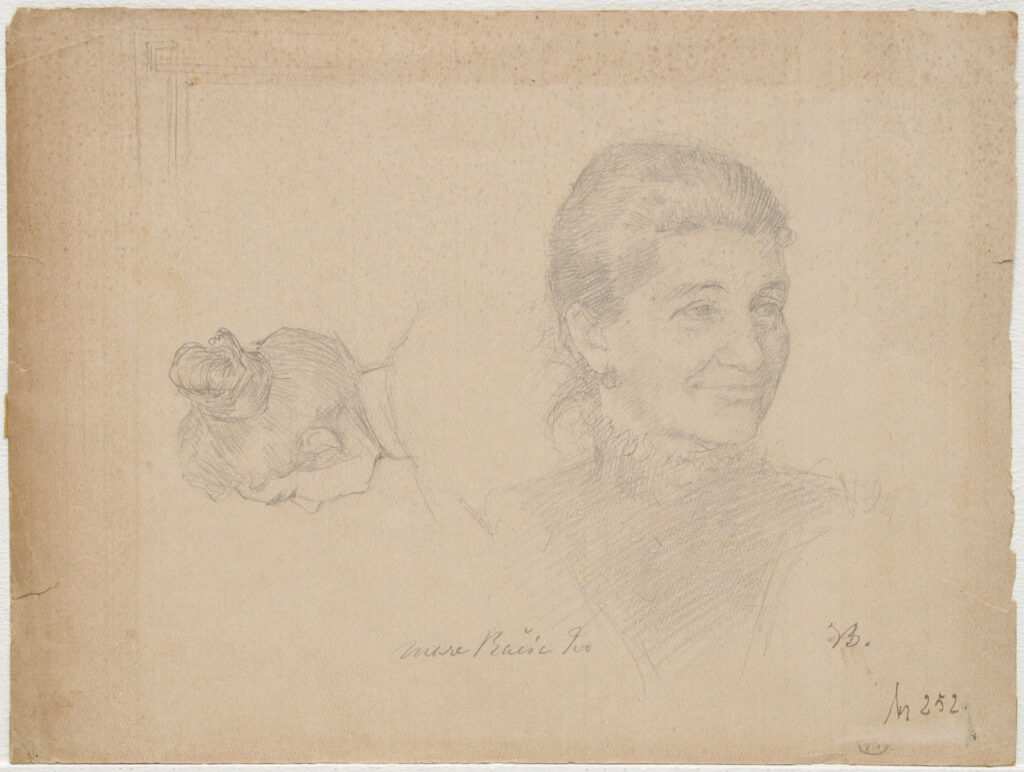 Indeed, in this large composition (132.5 x 400 cm), we see Bukovac in the left corner, with his back turned, as he plays the basprim (brač). He also placed about seventy neighbours in the picture, arranged around the room, either chatting or dancing. Somewhere in the background we recognise his wife Jelica sitting by the wall and talking to Mare Račić. The picture also shows Baltazar Bogišić, Aneta and Jozo Fagioni, Ivo Račić, Dr. Bendoni, Ulderiko Kalačić.
To the right of Bukovac, as a member of the tambourine orchestra, is his nephew Ago who will die somewhere on the Italian battlefield in the First World War. Next to Ago, also in the orchestra, sits Marija Račić Banac, who will die from the Spanish flu in 1918 just after the end of the war, and her friend Ivan Meštrović will build her a heavenly resting place, a Mausoleum on the peninsula Rat. The stories and destinies of many actors of this party, immortalized in a moment of joy and harmony, are amazing.
It is a rare group portrait of one place.
The painting is done in a dry manner and a very light palette with a characteristic brown contour line. In Cavtat, Bukovac is increasingly using dry technique – Roman canvas, a cloth of coarser structure credited with a special substrate that quickly absorbs colours and leaves no shine, prevents their mixing and toning, which leaves visible every stroke of the brush so that the surface is almost vibrant from many long and short, isolated moves.
For each portrait, Bukovac also made a sketch, in oil or pencil. Several such portraits, drawings, are kept in the collection of Bukovac House and testify to Bukovac's extraordinary drawing abilities.
The fate of the Epidaurus Society was not the kind Bukovac invoked. The society disbanded with accompanying quarrels. Bukovac withdrew the gift so that the painting would not follow the fate of the society and was exhibited in the studio for some time. Today, the painting is in the Collection of Baltazar Bogišić and is a valuable cultural and historical imprint of the place and its inhabitants from the threshold of 1901.